The Ultimate Guide To Website Development In Dubai
This is the most comprehensive guide to website development you will find anywhere online.
In this expert written guide you will find everything you need to know about having a website built for your business. This is NOT a guide to building website for web developers. It is designed for businesses who are looking to have a website built professionally, all whilst knowing the right questions to ask.
If you've ever had an issue with getting a website developed before, this guide will ensure you never have one again. So let's dive in!
The importance of web design to your business
Web design is an essential part of every business. It's actually unfathomable that in today's market, a business doesn't have a website. Long gone are the days of websites that simply housed a company brochure or catalogue. The internet is a vital part of consumers' lives, and as a result, they expect to see helpful, useful and up-to-date information on a company website.
In fact, in a recent survey, 57% of respondents stated that they wouldn't recommend a business if they had a poor experience on their website. It's pretty much accepted that the buyer journey now starts with a Google search. This means your website is under the microscope without you even knowing it. If you have poor web design and an old clunky website, you're more than likely costing yourself business before you even have a chance to speak with a potential customer.
Aside from giving a great first impression there are several other reasons why great web design for your business matters. These include but are not limited to:
SEO
Customer service
Lead generation
Revenue growth
Your website represents the first impression that is made to a potential customer. If it isn't very good then you can expect the first impression to be reflective of that.
Your website should be the best sales and marketing tool you have in your arsenal. It never sleeps, it can sell for you 24/7 and should be used as a tool to help guide potential customers to find the right info they need to make a purchase decision. Yes, this goes for businesses that don't directly sell anything online as well (much like us at INCYCLE).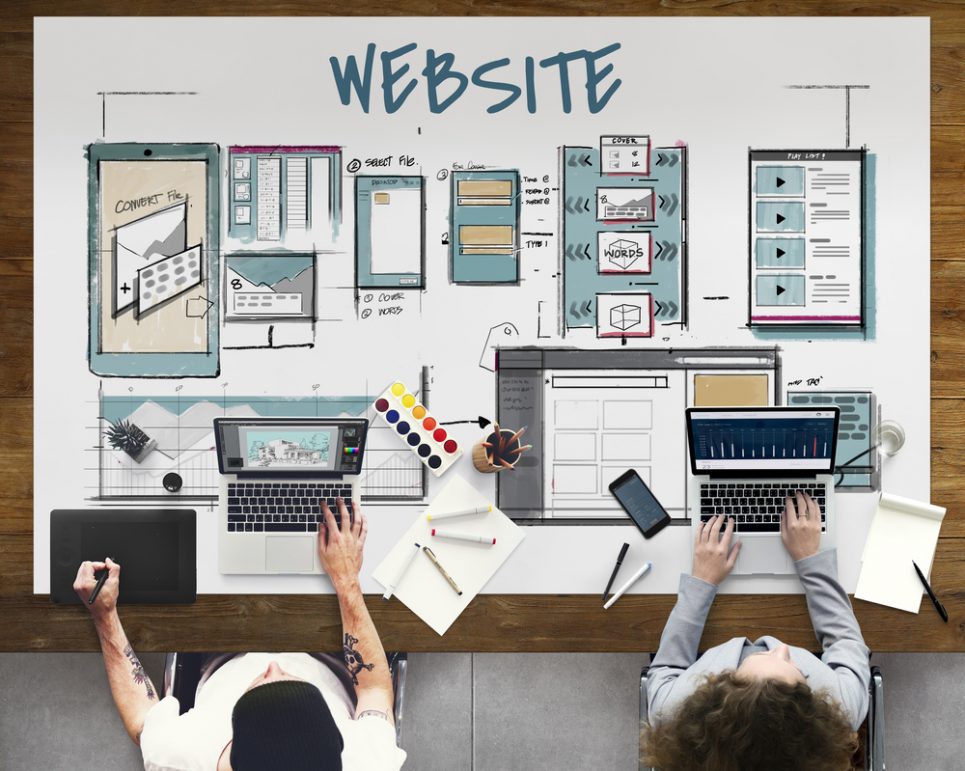 One of the most important aspects of the importance of web design for your business is that you are in competition with more people than ever before. In years gone by, a business was only in competition with those in its immediate vicinity.
Now, people have access to stores and businesses across the world, meaning that everyone is vying for attention.
If your local competition has a great looking website that helps its audience to make purchase decisions, then other businesses across the world do too. If you aren't at least on the same level design wise, then you have already fallen behind.
The great news is that getting up to speed isn't as difficult as it would appear. That's why we've created this complete guide to web design in Dubai. By the time you've finished this guide, you will know absolutely everything there is to know about getting a website built, not just in the UAE but anywhere in the world.
We've taken all our years of agency, client management and website development experience and put it all into this one guide. If it isn't in here, then it isn't worth knowing. Whether you're getting your first website built or looking into a website redesign, you'll be able to make sure you get all the info you need to make the right decision for your business.
Website vs Funnels
Believe it or not, there are many successful businesses out there that don't have a website. Now, this might sound completely contradictory given the section above about the importance of web design for your business. 
You're probably aware of the marketing funnel as part of digital marketing campaigns. If you're not, they basic premise is that people who are making buying decisions follow a process to get them towards their end goal. They follow the following stages:
Awareness

Consideration

Decision
If you do a quick Google search for marketing funnel, you will see endless examples of what this looks like and the various tools you can use at each stage to help a prospect move through yours. Now, this is all great theory, but becomes a bit harder to actually translate into something tangible.
More recently, physical funnels have come into play whereby businesses can create a set of stages and actions that are used to drive traffic, convert them and achieve their business objectives. Most of the time they are built on platforms and a ready to use tools.
Some businesses have taken the decision to replace a traditional website with one or more of these funnels and have seen unbelievable success. Does this mean that abandoning a website for a funnel is the right thing for you? We're going to break this down for you right now so you can be sure which one you really need.
Now, it's really important to remember here that you can have a website and funnels at the same time. It's not an either or choice. Typically we find that businesses like to incorporate funnels into existing websites. It really depends on your business model and what you are looking to achieve from your website and funnels.
We list here the comparisons between the two so you can see which is the best fir for your business (If you feel like you still can't decide after seeing this, then give us a call and we can work with you to see which option would be right for you).
CMS Platform
A CMS style website is a website that is built on a platform that allows complete customisation. Usually, this is built with a page builder tool and more often than not, is started with a pre-filled template. This is a great option as most of the heavy design lifting is already done. The major platforms that are used for this type of website development are as follows:
WordPress (Our favourite platform)

Magento

Drupal

Joomla
CMS platforms allow for as much or as little customisation as you like. This is great for those who want complete control over the look and feel of their website. However, this means that they require a bit more attention and upkeep than other types of website platforms.
These platforms also integrate with a massive range of plugins that range from free to paid. There are specialist companies out there who build apps and plugins exclusively for these platforms so support is never far away should you need it.
A CMS platform is a great option for businesses of all sizes, due to their ease of use, accessibility, customisation options and out of the box web design options. These platforms are also free to set up and use, so can represent a very cost effective option for those on a tighter budget.
Looking to get a website developed? Now you have all the info you could ever need, you know you can get your project up and running quickly. Book a time with us for your free consultation to see how we can get you started. Simply click the button below!